Are you wearing a mask every day, not just on Halloween?
I shot this video over the weekend at a Trunk or Treat in our neighborhood. While my family was there, many of my friends were at Halloween parties, haunted houses, and other events.
Halloween is #2 in the U.S. in terms of spending, decorating, and general celebrating, just behind Christmas.
People LOVE to dress up and pretend to be someone else for a while. If you're really into it, you're probably even wearing a mask or crazy makeup to enhance your costume.
The problem is, too many women wear a mask every day, pretending to be someone else because they've learned that it's not OK to be themselves. They're afraid to show the world who they really are, because they're afraid of rejection. They're afraid that they're not enough. They're afraid that people won't like them.
So they pretend to be someone they're not.
It's exhausting.
I know because I did it for almost 30 years of my life. I wore a mask of perfection, a mask of The Good Girl, a mask of toughness and invulnerability. I was afraid to show my true self. I kept people at a distance because I was afraid to let them in. Afraid to let them know about the abuse I'd endured because I was convinced that if they saw the real me – the hurt and broken me – they'd hate me as much as I did.
It took me years to restore my self-esteem and have the confidence to take off the mask and show the Real Me. But it's so totally worth it.
It's SO freein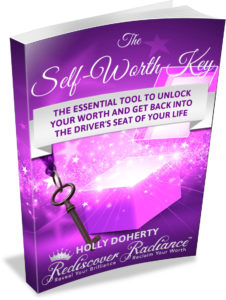 g to show up in the world as yourself – without hiding or pretending.
I created a brand new free gift for you to stop hiding, take off the mask, and rediscover your Radiant Self.
It's The Self-Worth Key: The Essential Tool to Unlock Your Worth and Get Back into the Driver's Seat of Your Life.
How are you wearing a mask? How are you hiding your true, Radiant Self from the world? Leave a comment below.