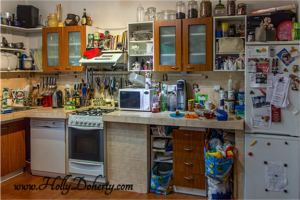 As I've said before, "Physical clutter leads to emotional clutter." There's proof. Researchers a UCLA recently discovered a direct link between symptoms of depression and a cluttered home. Specifically, they found that women's stress  levels (and cortisol levels) rise when their homes are cluttered, while men don't seem bothered nearly as much. (Surprised, anyone 🙂 ) Actually, my hubby's probably bothered by clutter even more than I am. But I digress…
The study also found that, while many people want to clutter their homes, many feel "emotional paralyzed," unable to part with items of sentimental value or perceived monetary value.
Read more about this study here.
Get great tips on organizing and decluttering, including how to deal with sentimental items, in my book, Get Organized This Weekend: How to Declutter Using the A.C.T. System for Home Organizing
What are your biggest decluttering dilemmas? Share in a comment below!