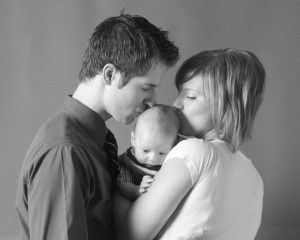 I don't like to get political on this blog.  My goal is to strengthen families, no matter what they look like, no matter what their beliefs.  We all know that families today run the gamut – traditional, blended, single parent, even same-sex parents.  I am not judging anyone's family.  As an adoptive mother who believes that every child deserves a forever family, I firmly believe that children are better off in loving families.  Period.  Families are absolutely fundamental to the well-being, self-esteem, and development of children.
So it really burns me up when I hear people waging war on families.  I'm talking specifically about people who try to insert the government between kids and their parents.  There's a dangerous notion out there that "It takes a village to raise a child."  No, it doesn't.  As HSLDA Director of Federal Relations Will Estrada explains, "It takes parents – loving parents in a home – to raise a child."
I've heard of non-disclosure agreements in some schools, where the school makes the children agree not to tell their parents what's discussed in certain classes.  Some sex ed classes go so far as to tell children to forget what they've been taught at home and church, and believe only the school "curriculum" (You're Teaching My Child What?: A Physician Exposes the Lies of Sex Ed and How They Harm Your Child
).  And apparently U.S. Attorney General Eric Holder doesn't believe in the fundamental rights of parents to direct the education of their children.
And the most recent example of the state trying to wedge itself between parents and their children is evidenced in MSNBC host Melissa Harris-Perry's statements that "we have to break through our kind of private idea that kids belong to their parents or kids belong to their families and recognize that kids belong to whole communities."
The danger in this kind of thinking is that if kids don't belong to their parents, then parents have no rights concerning their children.  If children belong to whole communities, then every facet of their lives must be controlled, based on what "the community" (read government) decides is best for the "common good."  Individual rights vanish for the sake of the collective.
Sorry, but this smacks of fascist propaganda to me.  I seem to remember a certain leader of Germany saying this back in the 1930's.  In fact, he said just such a thing on May 1, 1937: "This new Reich will give its youth to no one, but will itself take youth and give to youth its own education and its own upbringing." (The Rise and Fall of the Third Reich: A History of Nazi Germany
)  Sound familiar?
Homeschool Legal Defense Associations' Director of Federal Relations Will Estrada challenges this notion by asserting that "Freedom requires that children are not property of anyone."  They are "given by God to parents and to families to be loved, to be raised and to be prepared to go on to be leaders in their community."  You can see his thoughtful response to Harris-Perry's comments here.
No one knows what's best for our kids better than we do.  No one loves them more than we do.  No one will protect them as well as we do.  Please, let's stand up for families' rights.  Certainly, when our children are grown, they will become members of their communities.  They will have an obligation to play nice with others, and contribute to society.  No one lives in a vacuum.  But don't let these dangerous state-ist ideas sway you. Children are born (or adopted) into families.  It is our obligation to raise them, not the government's.  Be very careful what rights and responsibilities you abdicate to others.
Author's Google+