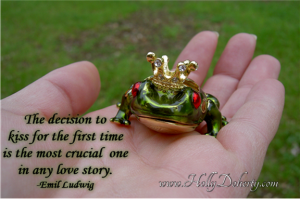 When my 5 year old daughter told me about her friends kissing on the playground (YIKES!) I desperately began looking for ways to protect her purity.  After all, our kids' purity is under attack at every turn.  (Click here to see my post about inappropriate movie previews, and tips for instilling your own family values in the face of opposing media forces.)
Too many young people (and adults) try to get their self-esteem from relationships.  Rather than seeking their value from God, they mistake acceptance in romantic relationships for true self-worth.  Even young girls imitate the likes of Christina Aguilera and Britney Spears in an attempt to look sexy, because these singers are some of the strongest (and most prevalent) female "role models" young girls see.  (Yes, I use the term "role model" loosely.)
And don't even get me started on the whole Miley Cyrus twerking incident!  I know she's trying to establish herself as an adult after her Hannah Montana role, but really?  If you ask me, I think she needs a healthy dose of self-esteem to know that there's more to life than being a sexual object!
Thankfully, my daughter's too young to know who Miley Cyrus is.  Her biggest role models are the Disney princesses.  Not that they're without their own little bit of controversy.  But damsel-in-distress themes aside, every princess demonstrates strength of character, kindness, integrity and many other qualities I want my daughter to emulate.  And they don't kiss anyone except their true loves.
I love the Disney princess movies.  But even those stories stir up notions of impossible romantic love, and the idea that girls should wait for a Prince Charming to sweep them off their feet to live happily ever after.  Real life is more like the Shrek version, with disputes over the in-laws, puking babies, and times when you wonder just what you've gotten yourself into.
But I digress. I was talking about purity….
With so many media messages pushing sex and sexiness on our kids, I was desperate to find something that would help me protect her innocence.  After all, I want my little girl to stay a little girl as long as possible.  Anyone with me?
I recently came across Generations of Virtue at a homeschool conference.  One of the books I purchased was The Princess and the Kiss, a story about a wise princess who sees through the shallowness of various suitors and saves her precious first kiss for the man she marries.
It's a charming story, and one my daughter adores.  She seems to have taken the message to heart, and it's opened the doors to a lot of good discussions on the subject.  I'm going to get the accompanying devotional book soon, to keep the conversations going.

And I'll read The Squire and the Scroll to my son when he's a little older (since he's only 7 months old right now, I think I have a little breathing room, don't you?)

I know a few books is not the end-all-be-all of teaching purity or true self-esteem to our kids.  The journey in instilling genuine self-worth in my daughter has just begun, but this book has been a good start.  And for the moment, I breathe a small sigh of relief, knowing that (fingers crossed and prayers said!) she won't be kissing little boys on the playground anytime soon.
How do you combat the onslaught of sexual images in our culture to teach your children that they are worth more than that?
(This post contains affiliate links.  See my disclosure policy.)