You finally get an evening without karate or cheer team, but everyone's so exhausted and stressed out that they eat dinner in silence. Or they grab a plate of food and retreat to their bedrooms to play Xbox or text their friends while they scarf down their meal alone. Or worse yet, dinner time turns into a verbal boxing match over whose chores were left undone or how Johnny didn't finish his homework again. Sound familiar?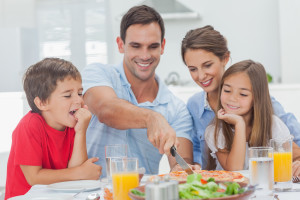 If so, you're not alone. Decent family meals are almost an endangered species these days. So how do you make family dinners even happen, let alone make them enjoyable, meaningful and memorable?
First of all, remember that great family meals are not about the food at all. They're about the atmosphere you create. Family meals should be relaxing, supportive, and positive. Whether you're eating take-out pizza (like at my house) or home-made chicken cordon bleu (so not like my house), the real magic happens when family members simply talk.
Think about it – dinner can be a zombie-feast with downcast eyes and everyone focused on their forks. Or, it can be an interactive experience filled with laughter and good conversation, where everyone's engaged and participating.
To create a positive atmosphere, follow these Ground Rules for Family Meals:
Aim for 30 minutes a night.
Turn off all media.
Keep the conversation positive.
Treat each other with love and respect.
Cook one meal.
Listen to each other.
Ask questions, and don't judge.
Ban the following conversation-killing statements:

"That's stupid."
"That's wrong."
"That's ridiculous."
"How could you ever think that?"

Make sure everyone sits down to eat. Yes, even you, Mom 🙂
Ask open-ended questions, and follow up with "Why?"
And how do you get everyone talking? What if you don't know where to start, or if the "High Point/Low Point" game is stale? What if you have a hard time getting your kids to open up?
That's why I wrote The Magic of Family Meals: 115 Conversation Starters to Connect With Your Kids.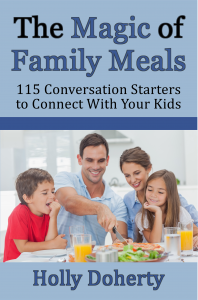 Explore current research on the benefits of family meals and learn practical strategies for making great family meals happen. Then unleash the real magic of family meals and get your kids to open up by asking one of the 115 Conversation Starters. Topics include: Character and Values, Community and Pop Culture, Family Dynamics, Dreams and Imagination, and Personal Preferences/Self Discovery. Ask the right questions, and you'll never run out of things to say.
So buy your copy today, connect with your kids over a meal, and watch the magic happen.