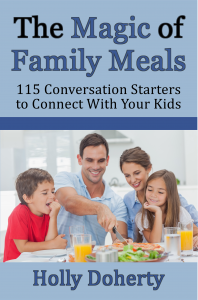 Family meals are of unparalleled importance for children's cognitive, social, and emotional development.  They are also critical for keeping families connected.  But tossing a plate of food in front of scowling, reluctant kids (or parents!) won't bring about family harmony.  The magic of family meals happens when families talk to each other, and share more than just the superficial details of their lives.  The Magic of Family Meals lays out the Ground Rules For Family Meals, designed to create a pleasant atmosphere your kids will want to be a part of.  The stage is then set for the real magic to happen when you use the 115 Conversation Starters to spark hours of meaningful dialogue with your children.  Get to know your kids like never before.  Connect with your family over a meal, and watch the magic happen.
Is your living room a welcoming, relaxing space, or does it look like a tornado tore through your home?  Is your bedroom an oasis of calm, or a repository for everything that doesn't have a place elsewhere?   If you don't like your answers to these questions, this book is for you!
Maybe you try to get organized and never get the results you expect.  You're not alone!  The reason is that many people take a Ready-Fire-Aim approach to organizing.  Or, they're simply trying to organize too much stuff!  (It's much easier to get and stay organized if you declutter first.)
In Get Organized This Weekend, you'll discover the unique A.C.T. System for Home Organizing that will help you organize your home according to your habits and needs so you design a system that truly works for you.
Along the way, you'll also discover:
Strategies for Sentimental Items
The 5 Crucial Steps for Dealing with Clutter
4 Simple Storage Rules
Secrets of the Pros – Simple Solutions for Everyday Organizing Challenges
10 Commandments for Chronic Clutterers
Clever Ways to Contain on a Budget
Coming Soon:  Self-Esteem Bootcamp