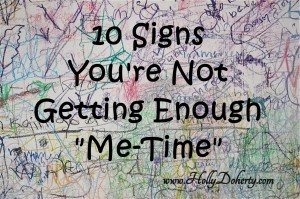 As women, we're really good at taking care of everyone's needs. Everyone, that is, except ourselves. It's all too easy to neglect ourselves amidst the constant demands of our families, jobs, and outside commitments. Self-care – taking a little time out to relax and recharge – is so important, but most of us don't get enough of it. And most of us would tell our best friend that she deserves a break, but we fail to tell ourselves that very same thing.
I've compiled a list of the Top 10 Signs You're Not Getting Enough "Me-Time." If you're like most moms, you'll recognize yourself on this list at least once 🙂
Your idea of dressing up is a T-shirt without spit-up stains.
You think Caillou is quality programming.
The kids have really annoyed you – they woke up!
You actually want to watch Frozen for the 100th time.
Your idea of squats is picking up the food your toddler threw on the floor.
You're ready for bed, and it's only 8 a.m.
You put shower gel on your legs for 3 days before realizing it's not lotion. (Yup, that's me!)
You haven't heard your real name in months, but you've been summoned endlessly. (Also me.)
You can't remember the last time you peed in private. (Ditto.)
You think being hospitalized sounds relaxing, because at least you could get a good night's sleep and someone else would cook dinner.
How do you know you need some "Me-Time?" Let me know in the comments!